Dance Class Descriptions:

---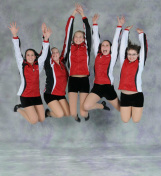 Ballet (Ages 4-Teen)




Through the discipline of ballet technique students improve in grace, strength, coordination, flexibility and fluidity. Class consists of barre, center and across the floor work.



Ballet Barre Workout (Teen/Adult)
A combination of postures inspired by ballet and other disciplines like yoga and Pilates. The barre is used as a prop to balance while doing exercises that focus on isometric strength training (holding your body still while you contract a specific set of muscles)combined with high reps of small range-of-motion of movements. Also, don't be surprised if this class incorporates light handheld weights to bring the burn during all those reps, as well as mats for targeted core work.

Cheer Dance (Ages 6-up)
Learn new dance moves, jumps and turns to help your Cheerleading.



Creative Movement (Ages 3-4)


A beginner to ballet class for pre-schoolers where they will learn to dance, jump, turn, and learn basic ballet steps in a creative & magical environment!



Explosion Dance Team (8-up upon Directors approval)


Do you love performing and making people smile then the dance team is just for you. The Explosion Dance Team is a non-competitive team that performs locally as well as travel. For more information on becoming a member of our team please contact Miss Erin or Miss Rita.



Fairy Tale Dance

(Ages 2-3)


Does your child love fairy tale Princesses or Princes? Imagine dancing with your favorite Princess, Prince each and every week? Children will dance, jump, twirl, and learn basic ballet steps in a creative & magical environment!



Gymnastics (Ages 2-Teen)
Basic tumbling and stretches. Students will continue to work to achieve flexibilty, balance, and strength. More advanced students will master more difficult tumbling and stunts.



Hard Shoe (10-up upon Directors approval)




A form of Irish Step Dance that uses hard shoes that are similar to tap shoes.



Hip Hop (Ages 5-up)
A high-energy class that uses the latest sounds in rap, R&B and pop music together with movements, gives students the opportunity to develop their own sense of style.



Irish (Ages 5-up)




Irish step dancers wear shoes called gillies or soft shoes, which are similar to ballet slippers. Dancers stiffen their upper bodies while performing quick, intricate footwork and formations.



Jazz (Ages 5-up)
Jazz based class where students will bring the song and choreography to life through dancing and acting. Must have some kind of jazz or ballet training.



Lyrical (Ages 6-u

p)


A more fluid form of dance mixing elements of Jazz and Ballet. Lyrical is set to the lyrics of the music and
allows the dancers to set their emotions free and dance with their heart as well as their technique.

Modern/Contemporary (Ages 8-up)
A free, expressive style of dancing started in the early 20th century as a reaction to classical ballet. In recent years it has included elements not usually associated with dance, such as speech and film.



Pointe (Ages 10-up upon Directors approval)




This class is a continuation of classical ballet on pointe.



Tap (Ages 4-Adult)
Students will learn a basic tap foundation, terminology, timing and rhythm. As the more advance the class gets you will learn more challenging rhythms and precise tap sounds.



Yoga (Teen/Adult)


A spiritual exercise which includes breath control, simple meditation, and body postures. Yoga is widely practiced for health and relaxation.

Zumba (Teen/Adult)
An aerobic fitness program featuring movements inspired by various styles of Latin American dance and performed primarily to Latin American dance music.